Where are they now?
APNA got in touch with nurses who had established clinics as part of the Enhanced Nurse Clinic and Building Nurse Capacity projects (2016 to 2020) to see how they were going. We sent out a survey to 28 participants and received 25 responses. Here's what we found.
What's changed for the nurses?

Reasons the clinic had stopped running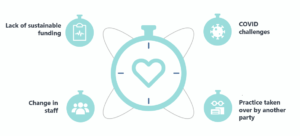 Enhanced Nurse Clinic (ENC) project was established in 2016 as a research initiative to examine the barriers and enablers nurses experienced when setting up a nurse clinic in their organisation.
The project was funded by the Department of Health and provided grant funding to 11 practices to support the establishment of a nurse clinic.
''My clinical responsibilities increased and I am mentoring two new RN's.''
"I am now acting practice manager and senior practice nurse. I completed more education since enhanced nurse led clinic.''
Building Nurse Capacity (BNC) is a 36 month project split into two 18 month intakes.
It builds on the work completed in the Enhanced Nurse Clinic (ENC) project, focusing on the development of nurse-delivered (team-based) models of care which improve patient outcomes, in a range of primary health care settings, to increase the capacity of the primary health care team.